COVID-19 (Coronavirus)
Due to the ongoing situation regarding Covid-19 we are working to ensure that we continue to provide an excellent service for all patients and solicitors. A number of our consultants/practitioners are now able to offer telephone / Skype / FaceTime consultations and assessments for patients and/or medico-legal clients. Please contact the office of each individual consultant if you wish to enquire about this service. Contact details for consultants can be found in the 'Consultants' section of the website.
Malone Medical Chambers - COVID-19 Protocol
Advice for patients attending Malone Medical Chambers
If you have an appointment at Malone Medical Chambers and you believe you have symptoms of Coronavirus (high temperature or new continuous cough) or have been in contact with anyone who has these symptoms, please do not attend the clinic and call your consultant's office or your solicitor to reschedule your appointment.
On attending the clinic all patients are requested to adhere to the following requirements:
Please be punctual for your appointment.

 

Do not arrive early for your appointment as you will not be able to enter the clinic until your allocated appointment time.
Please remain outside the clinic until the time of your appointment and enter the clinic alone once you have been contacted by your consultant/practitioner or the clinic receptionist.
Please attend for your appointment alone unless assistance is absolutely essential.

 

All patients under the age of 18 years should be accompanied by an adult.

 

All patients are required to wear a mask for the duration of their time in the clinic.

 

If you do not have access to a mask one will be provided to you by the receptionist as soon as you enter the clinic for your appointment.
On entering the clinic everyone must use the alcohol-based hand sanitiser which is available throughout the reception area.

 

When coughing and sneezing, cover your mouth and nose with a flexed elbow, or use a tissue and discard it immediately into a bin (preferably a clinical waste bin i.e. the bin with the yellow bag).
As you enter the room for your appointment, the consultant will check your temperature using an infrared temperature probe
 
General Information for patients
The most common symptoms of coronavirus (COVID-19) are recent onset of a new persistent cough and/or high temperature.  If you have these symptoms, however mild, stay at home and do not leave your house for 7 days from when your symptoms started (if you live alone), or 14 days (if you live with someone who has symptoms).  You do not need to call NHS 111 to go into self-isolation.  If your symptoms worsen during home isolation or are no better after 7 days, contact NHS 111 online.  If you have no internet access, you should call NHS 111.  For a medical emergency dial 999.

Welcome
Malone Medical Chambers Limited is a tastefully restored Victorian townhouse at 142 Malone Road where you can have a consultation with some of Northern Ireland's leading Medical and Surgical Consultants in tranquil and pleasant surroundings. Situated on the Malone Road in South Belfast, the clinic is easily accessed from all parts of the City, Province and beyond.
We want all of our patients and visitors to feel at ease from the moment they arrive, our building is full of original art, we offer free parking on-site (18 places), a warm welcome and a relaxing atmosphere.
Our Consultants provide a wide range of medical care through appointments which may be made by individual patients through a telephone call, fax, email, or online booking through this website. Solicitors may refer clients to any of the Consultants at Malone Medical Chambers Limited for medicolegal reports.
Consultants
We have many consultants who cover a great many specialist fields. Please click here to learn more about them.
Facilities
We offer a variety of services ranging from medical consultations, investigations, outpatient treatment through to medico legal reporting. Click here for more details.
Medicolegal Services
We provide a highly specific and professional medicolegal reporting service including medical negligence to solicitors. We are able to advise on which specialist would provide the most appropriate report for your client.
Questions?
Please click here and we will try to answer some your most frequently asked questions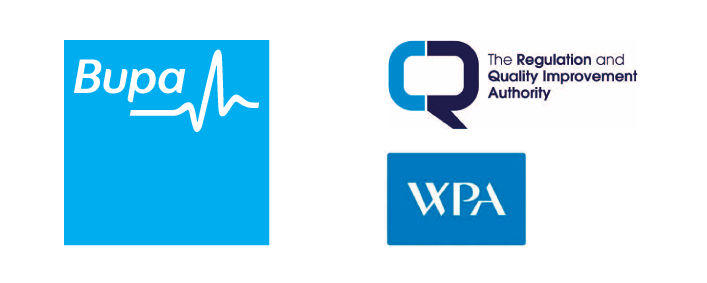 How to get in Touch
You can contact us through all the usual methods, click for full details
Enjoying our Art?
Most of the art on show in Malone Medical Chambers is available for sale. If you wish to purchase or discuss any of the art please get in touch with Doghouse Gallery. You can access their website HERE